If we had to sum up what you will find in Setenil de las Bodegas, we would describe it as the most original white village, surrounded by caves, traditions, views and gastronomy. One of the ways to visit this beautiful village is by doing the following activities a return trip from Malaga. But you can also make the excursion from Gibraltar and Tarifa.
Setenil de las Bodegas is one of the most beautiful white villages in Andalusia and is located in Cadiz. It has a unique layout on different levels, with winding cobbled streets between the rocks, whose centre is embedded in the gorge formed by the Trejo river.
Uno de los encantos del pueblo son sus casas ubicadas bajo las rocas, sus fantásticos miradores en los que se puede contemplar las increíbles vistas del pueblo y además, su conjunto histórico es Bien de Interés Cultural. Ahora si te invitamos a descubrir los 10 essential things to see in Setenil de las Bodegas.
1. Cuevas del Sol Street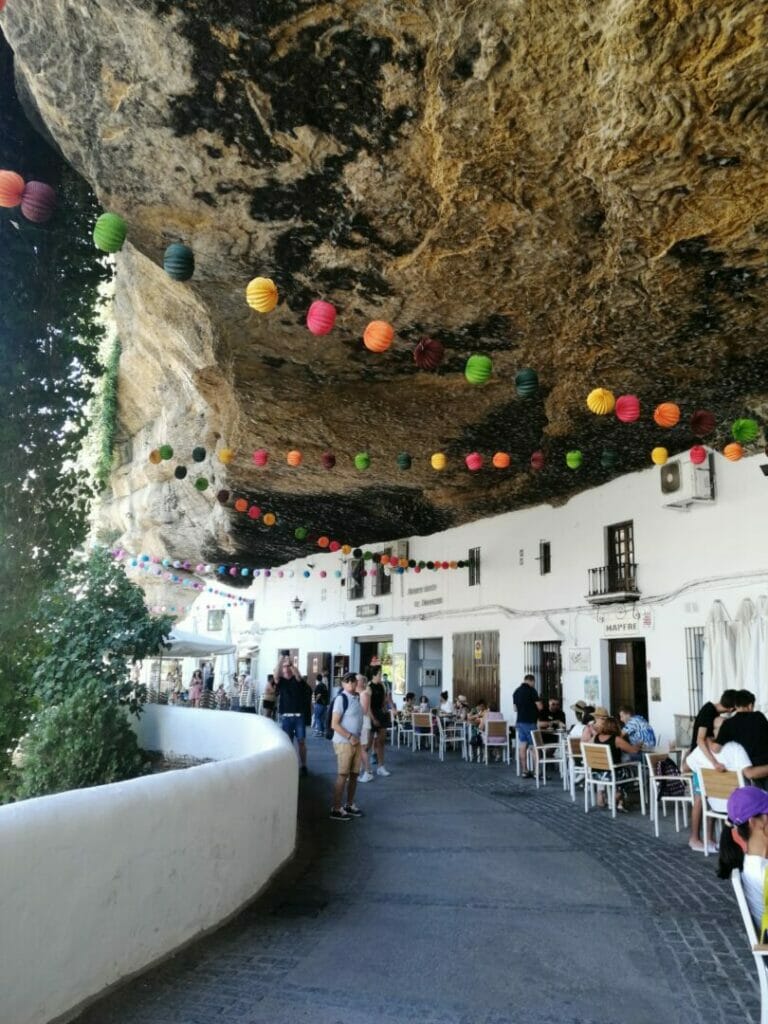 The "Cueva del Sol" is one of the most typical streets of Setenil de las Bodegas, se encuentra en la parte baja del pueblo y en paralelo al río Trejo. Es una de las zonas más transitadas de este municipio, con bares con y restaurantes, como el Bar Frasquito. Es el lugar idóneo para descansar y tomarte algo para continuar la visita.
2. Cuevas de la Sombra Street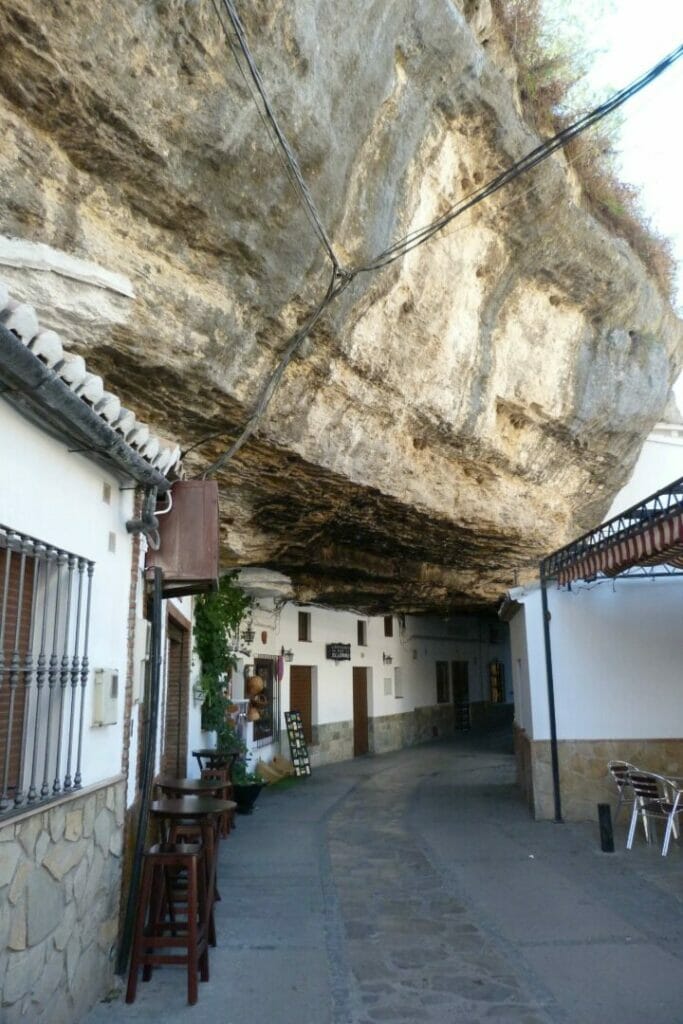 The Cuevas de la Sombra Street se sitúa muy cerca de Cuevas del Sol. En el transcurso de la calle se puede observar como la roca cobija a las viviendas que se encuentran debajo, y además cubre todo el ancho de la vía, llegando a las viviendas del lado opuesto. De esta manera se ha creado un túnel entre fachadas de viviendas populares a ambos lados.
The cave houses have begun to be valued as a tourist attraction for the village and many of them are already rehabilitated as rural houses or hotel establishments.
3. Carmen Viewpoint and the Hermitage of the Virgin of Carmen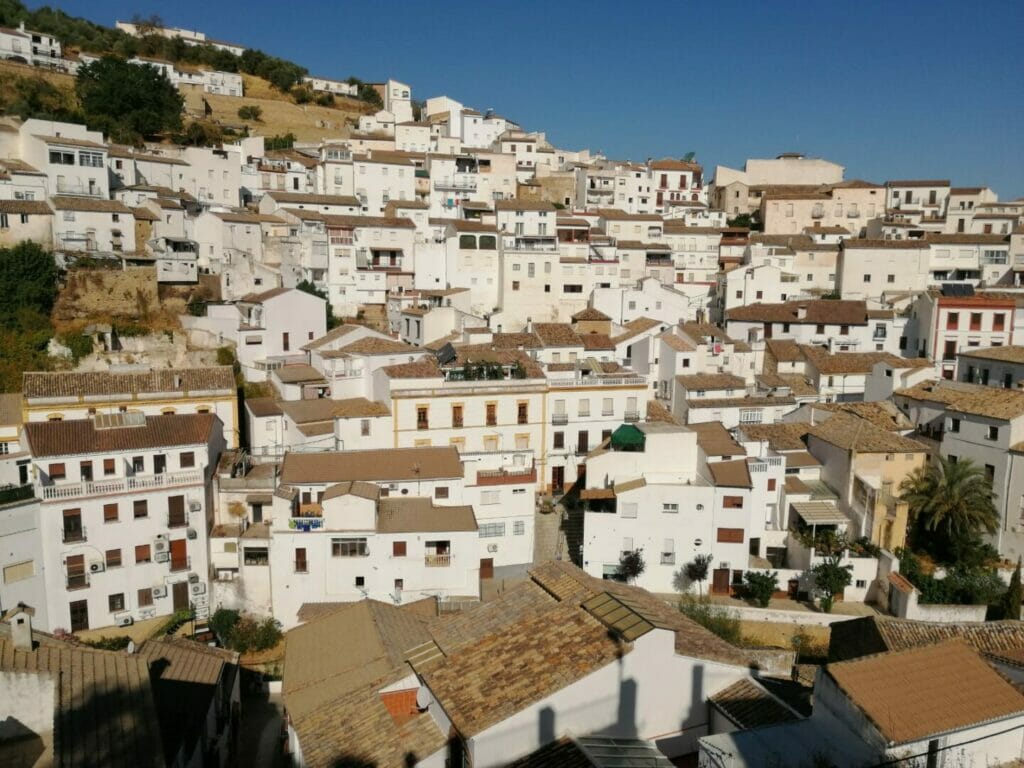 The Carmen Viewpoint, es una de los lugares de Setenil de las Bodegas que tienes que ver. Sin duda aquí encontrarás las best views of Setenil de las Bodegas. Subiendo las escaleras (que son algo estrechas) encontrarás unas vistas panorámicas del pueblo con todas sus bonitas casas blancas, la Torre del Homenaje, la Muralla y la iglesia de la Encarnación.
At this point you also find the Hermitage of the Virgin of Carmen dating from the 18th century. This virgin is the patron saint of Setenil de las Bodegas, the festivities are held in the middle of July.
4. Andalusia Square
When you have finished contemplating the scenery at the viewpoint, you can continue strolling through the beautiful streets of Setenil and end up at the Andalusia Square. This square is the heart of the upper part of the town, here you will find the Town Hall and the Tourist Office.
5. Kiss me in this corner' in Calle Herrería
La calle Herrería es otro de los lugares que no te puede faltar por ver en Setenil de las Bodegas. It is so called because it once housed a blacksmith's workshop. At the end of it you can find a plaque surrounded by blue flowerpots that reads the romantic text: "Kiss me in this corner". You can't forget to take pictures of this beautiful spot!
6. The Tower of Setenil of the Bodegas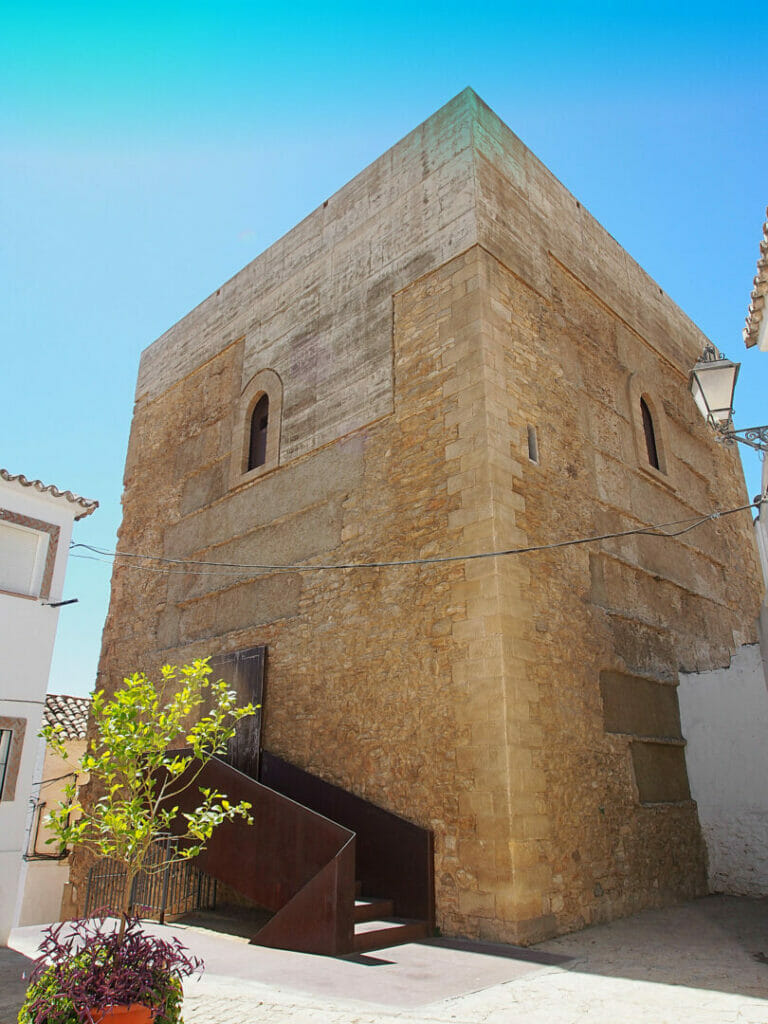 De la antigua fortaleza construida durante ocupación islámica. Este tipo de torreones eran frecuentemente utilizados como elementos defensivos por las tropas cristianas, subsisten la torre principal y una secundaria que flanqueaba la puerta de acceso al recinto, hoy día se conoce como la "Torre del Homenaje" or "El Torreón".. Estas formidables defensas se situaban a ser posible en el punto más alto del municipio, en este caso lo podemos encontrar junto a la Iglesia de Nuestra Señora de la Encarnación y actualmente acoge varias exposiciones temporales.
7. Nuestra Señora de la Encarnación Church
Yendo hacia el barrio de la Villa de Setenil encontraremos la Nuestra Señora de la Encarnación Church de estilo gótico tardío, fue construida entre los siglos XV y XVII, y esta levantada sobre la antigua mezquita. Sin duda es otro de los sites more beautiful para visitar en Setenil de las Bodegas.
8. A flower, a woman' between Mina Street and Vega Street
Passing through the Mina Street and Vega Street you will find a plaque with the text: A flower a woman, which pays homage to the Andalusian woman. Nowadays this type of plaque has become very fashionable, and many tourists decide to have their photograph taken next to the text and have a nice souvenir.
9. Visitar la Ermita de San Benito, otra de las cosas que ver en Setenil de las Bodegas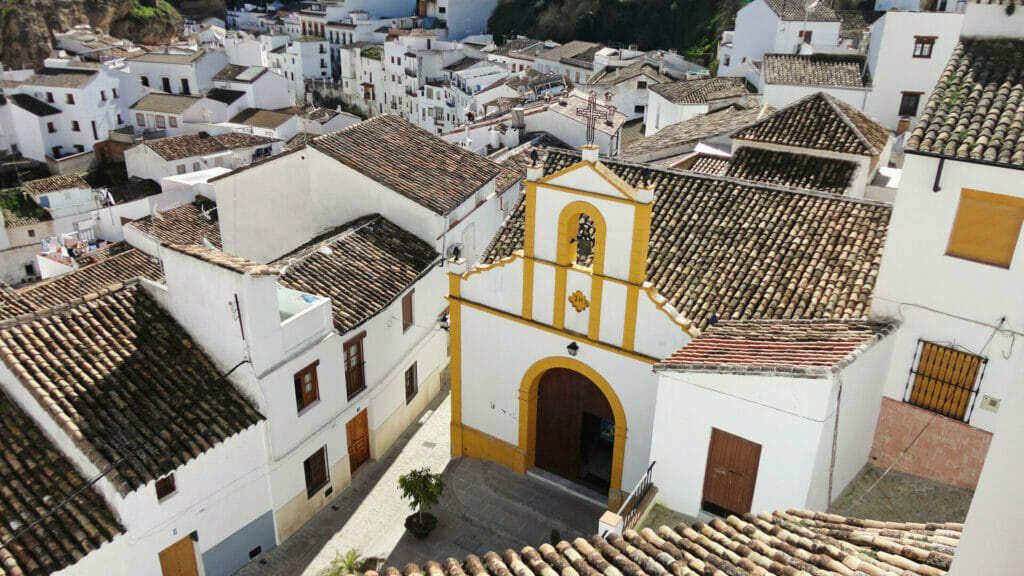 The Hermitage of San Benito es otro de los lugares que no puedes dejar de visitar cuando vengas a Setenil. Es una iglesia de que se encuentra situada en el interior del casco histórico. Se desconoce la fecha de en la que fue construida, la cual es sede de la Hermandad de Nuestro Padre Jesús Nazareno.
10. El Lizón Viewpoint
Also worth a visit is the El Lizón Viewpoint, dónde la panorámica es distinta a las anteriores por la perspectiva, ya que desde aquí se puede ver ltanto las calles como las casas situadas a diferentes niveles de altura.