Morocco's traditional drinks are an essential part of the country's culture and cuisine. With a rich tradition of Arab, Berber and French influences, Morocco offers a wide variety of beverages reflecting its cultural and geographical diversity. From refreshing herbal teas to tasty fruit juices, these drinks are a delicious way to explore Moroccan cuisine.
From Visitanddo.com we show you today typical Moroccan drinksOur favourite and most famous ones that you must try if you go as well as the places to enjoy them if you go to Morocco or specifically to Tetouan with one of our excursions. Read on for more information:
Typical Moroccan drinks: our favourites
Mint tea or Atay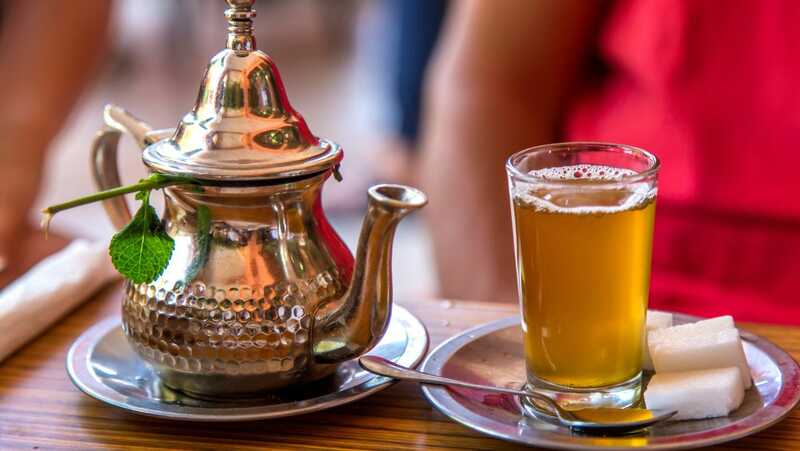 This hot, aromatic drink is traditionally served in small glasses and is consumed on almost every social occasion. One of Morocco's most recognisable icons is mint tea.known as 'atay' in Arabic. Mint tea is made from green tea leaves, fresh mint leaves and sugar, and is served in great style by the 'mrechichines' (tea masters), who pour it from a considerable height to form a foam on the surface. Mint tea is a symbol of hospitality. and guests are served to welcome them.
This refreshing drink is ideal for soothing the digestive system after a large meal and is traditionally served in tall, narrow glasses.
Try this typical Moroccan drink on our day trip from Spain.
Shiba Tea or Ginger Tea
Chiba tea, also known as "ginger tea", is an infusion made with grated fresh ginger and hot water. It is a comforting and stimulating drink, known for its digestive properties and spicy taste. Ginger is widely used in Moroccan cuisine and is believed to have medicinal properties. Chiba tea is prized for its unique taste and health benefits.. It can be an interesting option for those who wish to try a different variant of tea in Morocco.
Orange Juice
Morocco is known for having some of the tastiest and juiciest oranges in the world.and freshly squeezed orange juice at breakfast time is a refreshing and healthy way to start the day. Other fruit juices, such as grapefruit, peach and lemon, are equally delicious and nutritious.
Moroccan coffee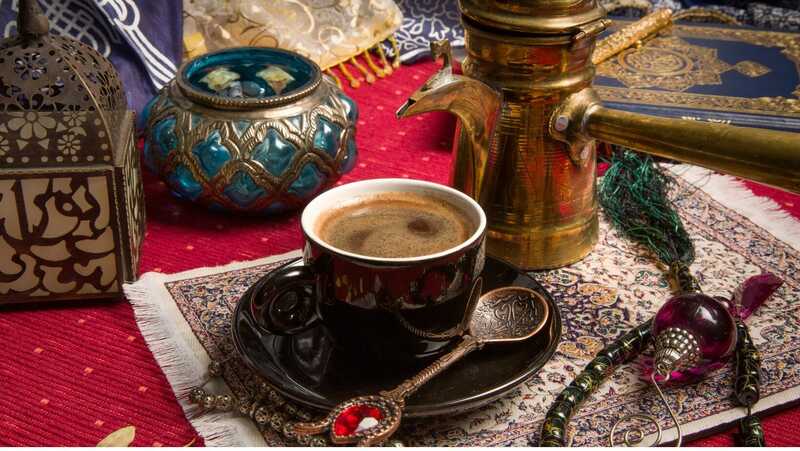 Moroccan coffee is strong and served in small cups, as well as being another popular drink in Morocco. It is often accompanied by dates or Arab sweets. Another drink found in Morocco is the "arabische koffie" or Arabic coffee. This coffee is usually served after meals and is prepared with finely ground coffee beans, hot water and a pinch of spices such as cardamom. It is a strong, aromatic drink that is served in small cups and enjoyed slowly while conversing.
Sharbat
Sharbat is a refreshing drink made from fruit juice (such as watermelon, strawberry or lemon), water and sugar. It is especially popular during the summer to alleviate thirst and served cold.
Amlou
This drink is a mixture of argan oil, almonds and honey. It is a Berber speciality and is served as a energy and nutritional drink.
Atay warda or Rose Tea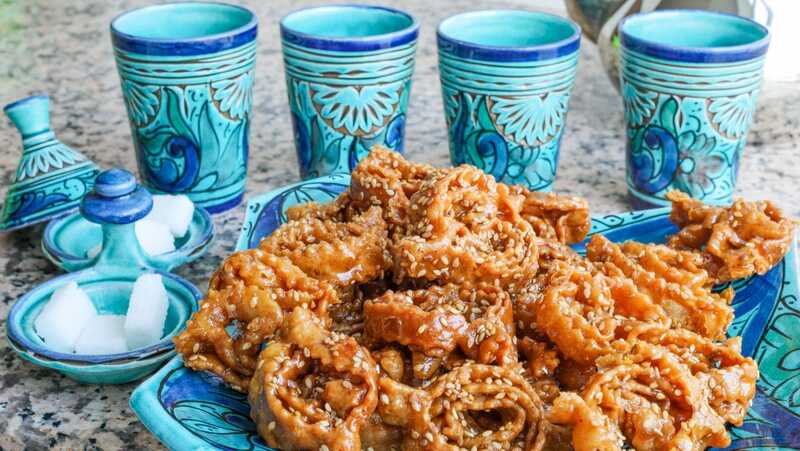 This herbal tea is made from dried rose petals and hot water, and has a delicate, floral taste. Rose tea, also known as atay warda, is prized for its fragrant aroma and supposedly soothing properties. It is a popular drink during Ramadan.The fasting month for Muslims, as it is believed to have refreshing and revitalising properties.
Jus de bissap or hibiscus water
For those looking for a non-alcoholic drink with a twistjus de bissap" is an excellent choice. Also known as "hibiscus water", this drink is made from dried hibiscus flowers and sugar. It is refreshing, quite popular in summer to help hydrate and has a sweet and sour, fruity taste.
Although in Morocco alcohol is not sold as freely as in European countries, they are found in specialised shops or in Carrefour hypermarkets, it should also be noted that they produce alcoholic beverages such as:
Wine
Wine production in Morocco has a long history dating back to Phoenician times. The best known wine regions are Meknes, Casablanca and the Guadalquivir Valley. Moroccan wine is appreciated both at home and abroad.The wine is produced in a wide variety of varieties, including reds, whites and rosés.
Beer
Beer is also popular in Morocco, although it is not as widely consumed as in Spain. It has local brands such as Casablanca, Flag Speciale and Stork. being the most common.
As you can see, Morocco's typical drinks are an integral part of its culinary culture. From the famous mint tea to refreshing fruit juices, each of these drinks offers a unique experience and represents the diversity of Moroccan gastronomy.
Visit Morocco in one day from southern Spain
Where to try typical Moroccan drinks in Tetouan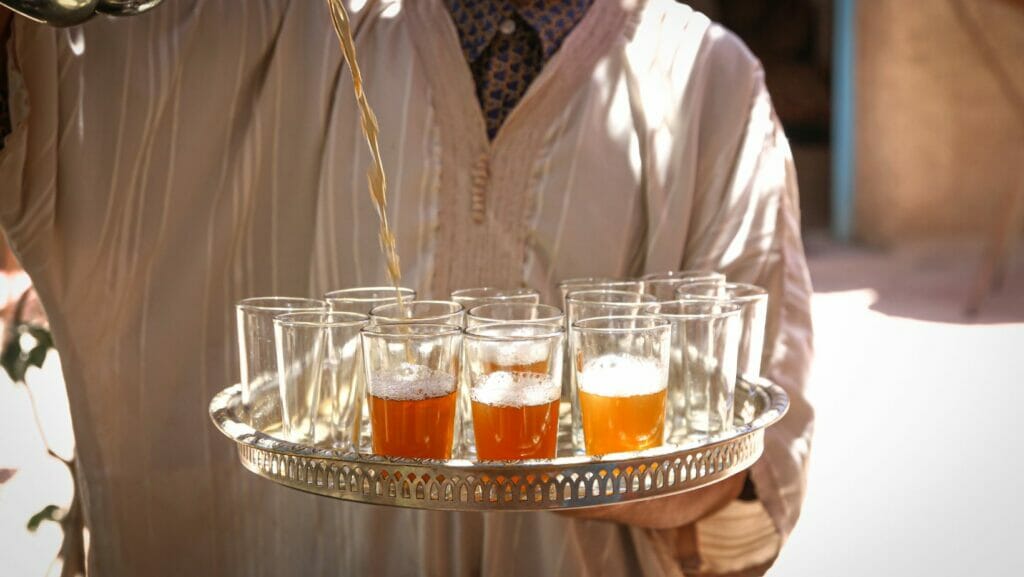 If you are looking for where to try typical Moroccan drinks in Tetouan, I would recommend exploring the following places:
Local cafés
Coffee shops in Tetouan are a great place to enjoy authentic Moroccan drinks. You can visit places like Café Al Mandarina, Café Avenida, or Café Hafa to try the famous mint tea, as well as other traditional drinks like Arabic coffee or fresh orange juice.
Souks and markets:
Tetouan's souks and markets are lively places where you can find street vendors and stalls offering a variety of drinks. In the Souk of Moulay El Mehdi Square and the Central Market of Tetouan, you'll find stalls selling fresh fruit juices and other refreshing drinks such as hibiscus juice.
Traditional restaurants:
Traditional Moroccan restaurants in Tetouan also tend to offer a wide selection of typical drinks. Some notable restaurants to try authentic drinks are Al Hambra Restaurant and Mansour Eddahbi Restaurant, where you can enjoy mint tea and other Moroccan specialities.
Tea shops and tea houses:
Tetouan has several tea shops and tea houses that are perfect for experiencing Moroccan tea culture. You can visit places like Tetería Al Minzah or Tetería Al Makhzen to taste different varieties of tea, such as mint tea or rose tea, in a relaxed and cosy atmosphere.
Remember that Tetouan is a city known for its cultural heritage and rich culinary tradition, so you are likely to find other local places to try typical drinks. Don't hesitate to explore and let yourself be carried away by the authenticity and charm of this beautiful Moroccan city. Also you can make an excursion with Visitanddo.com which includes return transport from Malaga.The tour includes: a tour guide, a return ferry from Algeciras, a local guide in Tetouan and a typical Moroccan lunch where you can taste typical Moroccan beverages. See all the information here:
If you need more information and recommendations before travelling to Morocco we leave you the recommendations of the ministry of foreign affairs