In recent years, it has become a tourist attraction to visit Malaga at Christmas, despite being the birthplace of the beach and the sun, boasting an average of almost 300 days of sunshine a year, the city of Malaga has been chosen by many tourists as one of the most popular destinations in the world. European Best Destinations on Europe's most beautiful cities at Christmas during their Christmas festivities and it is becoming more and more fashionable to visit the sound and light show that they offer in the famous Calle Larios during the most magical time of the year in Malaga.
At Visitanddo.com we provide you with the following guide so that you don't miss out on any detail about what to visit and what to do in Malaga at Christmasenjoying warm weather in the month of December.
Espectáculo de Luces de Navidad 2023 en Málaga: cuándo y dónde verlo
Todavía no han anunciado cuándo será el espectáculo de las luces de navidad de Calle Larios en Málaga 2023.
One of the most popular things to do in Malaga over the last few years is see the Christmas lights in Malaga.
En 2022 el alumbrado fue compuesto por 16 celestial angels in single file along Larios Streetaccompanied by 32 lateral columns on each side.
El centro de Málaga es decorado con preciosas luces de navidad en la mayoría de sus calles, sin duda, las más llamativas y famosas son las de la calle comercial del casco antiguo: Calle Larios, decorada con miles de luces LED, que bailan al compás de la música navideña, siendo uno de los most beautiful Christmas lights in Andalusia.
In recent years, San Juan StreetThe five-ball area, next to the five-ball area, also stands out for its elegant Christmas decorations with chandeliers.
¿Cuándo se encenderán las Luces de Navidad 2023 en Málaga?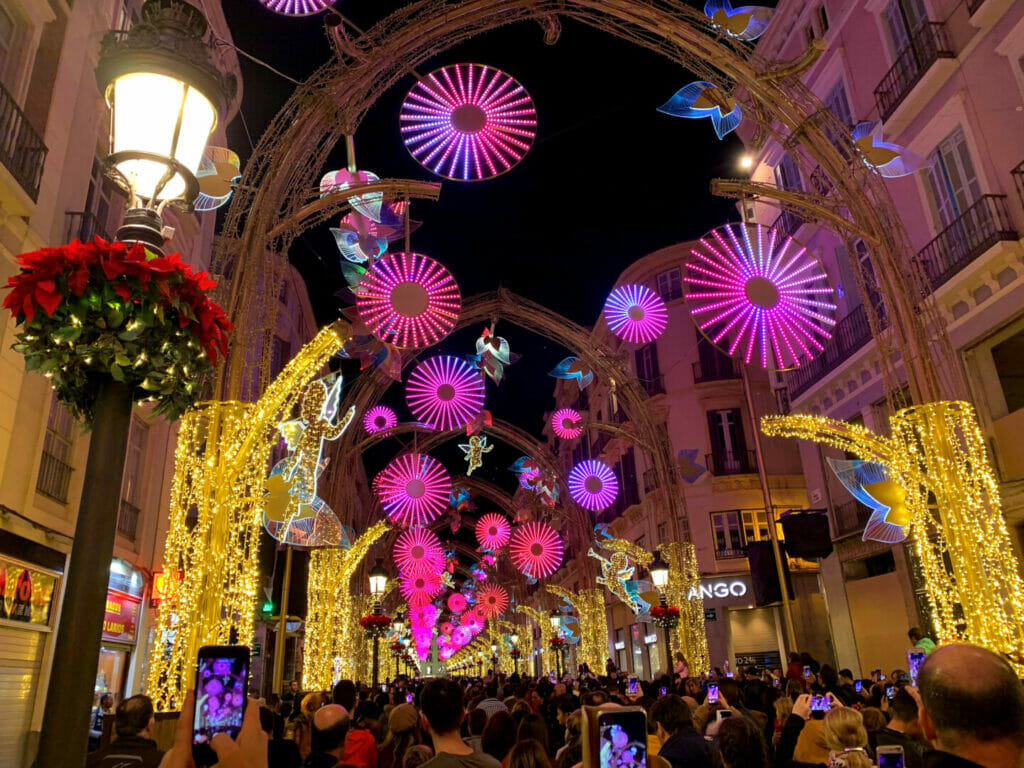 Todavía no hay fechas definitivas de la inauguración de las luces de Navidad en Málaga 2023 in Calle Larios.
Tras la situation of energy saving and light pollution by the Andalusian Regional Government, en 2022 se había barajado la posibilidad de que el periodo de alumbrado navideño comprendiese las fechas señaladas entre el 22 de diciembre de 2022 al 6 de enero de 2023The lighting will be switched off at night in order to optimise energy consumption. Finally, the lighting will be switched on for two hours less per day and the lighting used will be of led technologyThe power consumption is therefore lower.
Christmas lights 2022 se mantuvieron encendidas de lunes a viernes desde las 18.30h hasta las 00:00h, mientras que los fines de semana y las vísperas de festivo durarán hasta las 02:00h. Mientras que los días 24 y 31 de diciembre se podrá disfrutar del alumbrado hasta las 06:00h.
¿A qué hora empieza el espectáculo de las Luces de Navidad 2023 en Málaga?
On a daily basis light and sound shows between 18:30h and 00.00h, until 02:00h on weekends and the eve of public holidays.
It will be held in the following sessions: 19:00h, 20:30h and 22:00h.
¿Cuánto dura el espectáculo de las Luces de Navidad 2023 en Málaga?
The Malaga light show lasts between 10 and 15 minutes, depending on the songs played, on average between 2 - 3 minutes.
During the light show you will be able to listen to Christmas classics of 'Carol of the Bells' by Libera Children Choor and 'Jingle Bells' by Herd de Lord, among others.
Don't miss the opportunity! We take you to visit the Christmas lights in Malaga from:
Border between Gibraltar and La Línea de la Concepción
Estepona
Marbella
Calahonda
La Cala de Mijas
Fuengirola
Benalmádena
Video mapping show in Málaga Cathedral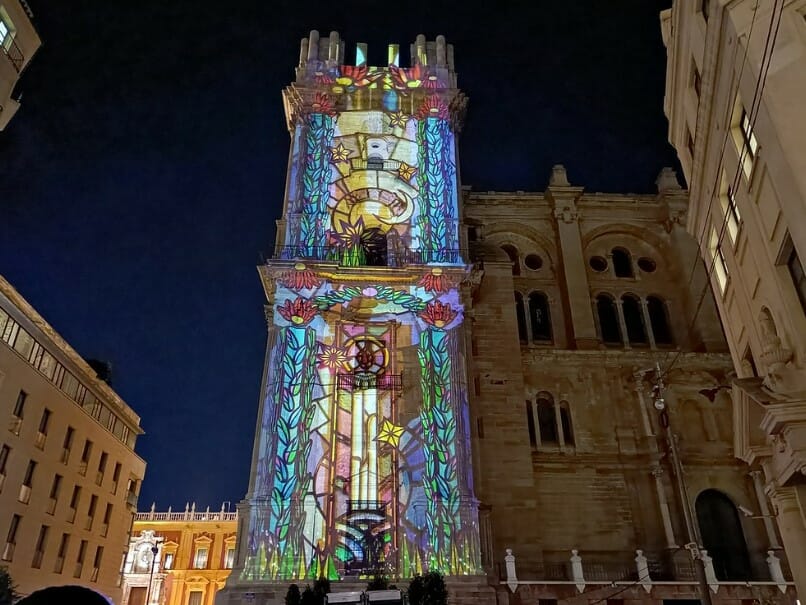 Through Christmas infographics a 'video mapping', i.e. a technique that combines 3D image projections with reality, was projected onto the south tower, or Mocha tower of Malaga Cathedral. This was inaugurated at Christmas 2021 in Malaga as a new show in the city.
The screenings will take place at 19:00h, 20:30h and 22:00h.every day until 4 January, with the exception of 24 and 31 December, with a duration of 10 minutes approximately.
¡Novedad! Espectáculo de drones Navidad en Málaga
From 3 December at 20:30h there will be a representation of Christmas images with 120 drones that can be seen in the areas of Muelle Uno, Gibralfaro and Plaza de la Marina, projected from the cruise terminal.
They will be held on 3,4,5,6,7 and 23 December at 20:00h, and on 9 December at 20:30h.
Christmas lights in the Botanical Garden
Following the English style of the "Royal Botanic Gardens Kew in London" or in Germany the Christmas Garden of the Berlin Botanical Garden. Malaga did not want to be less and for Christmas 2021 transformed the sunset of one of the most beautiful tropical gardens in Spain, the Botanical-Historical Garden of La Concepción, into a circular route of almost 2 kilometres full of Christmas decorations, as they have named "with the sunset comes a magical journey".
Mercadillo de Navidad 2023 en Málaga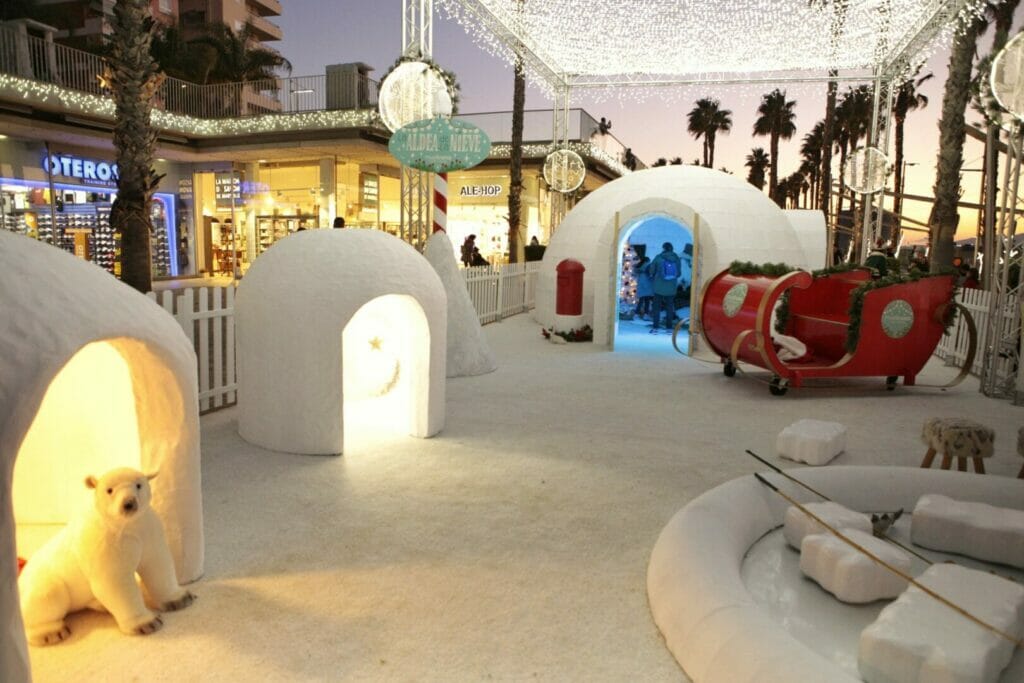 Take advantage of this time to make your Christmas shopping in Malaga. There are many beautiful Christmas markets in the province of Malaga. The Paseo del Parque Christmas market is one of the most famous in the city of Malaga at Christmas.
Next to the port of Malaga you will find The Snow Village at Pier OneThe children will be able to enjoy the activities on offer in a space with several igloos and Father Christmas' sleigh, where the little ones will enjoy the activities on offer.
You will find different Christmas markets in the province of Malaga as:
Garage Market in Soho
Christmas market on the west coast: Estepona, Marbella Fuengirola, Benalmádena or Torremolinos.
In inland villages, enjoying various activities for young and old, together with carols in Ronda, Álora or Antequera.

Christmas markets in the Axarquia: Torrox, Velez-Malaga, Nerja.

Outlet shopping in a Christmas atmosphere in McArthur Glen
What to buy at the Christmas markets in Malaga?
It is ideal for finding christmas gifts. A great opportunity to enjoy the variety of products from Christmas figurines, handicrafts, Christmas decorations, Malaga gastronomy and Christmas sweets such as the famous turrones, polvorones, mantecados or marzipan.
Dónde encontrar los árboles de Navidad 2023 en Málaga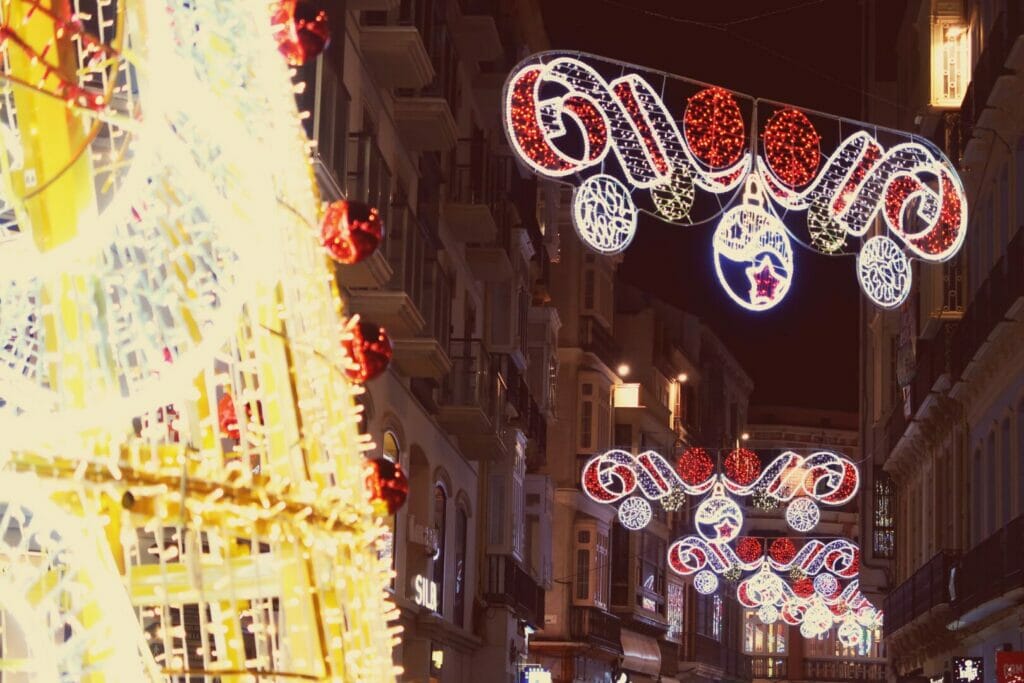 The Christmas trees in Malaga are located in 4 important areas of the historic centre:
The main one in the Plaza de la Constitución
Next to the bishop's square in front of the nativity scene located in Malaga Cathedral
In Alcazabilla street at the foot of the Roman Theatre.
The most symbolic one in the middle of the Plaza de la Marina.
Route of the Nativity Scenes in Malaga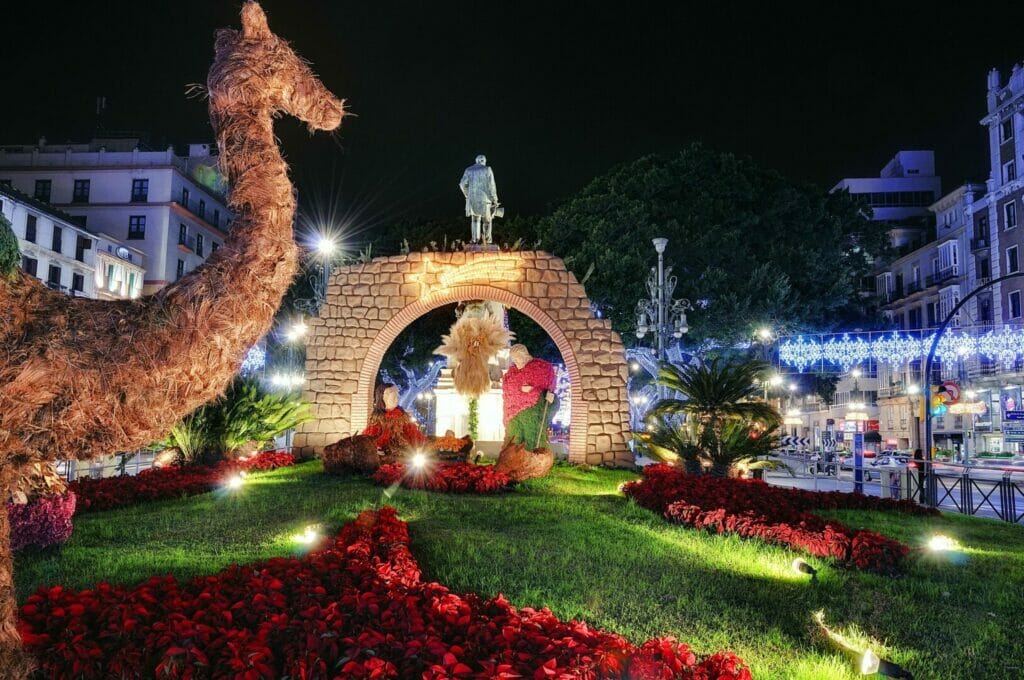 One of the biggest traditions during Christmas is setting up the nativity scene and a typical way to kick off the Christmas season is to visit "Route of the Nativity Scenes together with friends and family. There are approximately 70 nativity scenes scattered throughout all the districts and the city of Malaga, as well as throughout the province and you may wonder Where to see nativity scenes in Malaga?
Some of the Most famous nativity scenes in Malaga not to be missed are:
Municipal Nativity Scene of Malaga Town Hall
Nativity Scene in Malaga Cathedral
Monumental Nativity Scene in the Diputación de Málaga
Christmas Nativity Scenes in different Brotherhoods in Malaga
Belén de la Mosca
Mollina Nativity Scene Museum
Living Nativity Scene of Almayate
Nativity scene of the church of San Cristobal de Ronda
Antequera Municipal Nativity Scene
Other activities to enjoy Malaga Christmas
There are also more activities to do in Malaga during Christmas, here are some alternative plans:
Delivering the letter to the Royal Postman for the Three Wise Men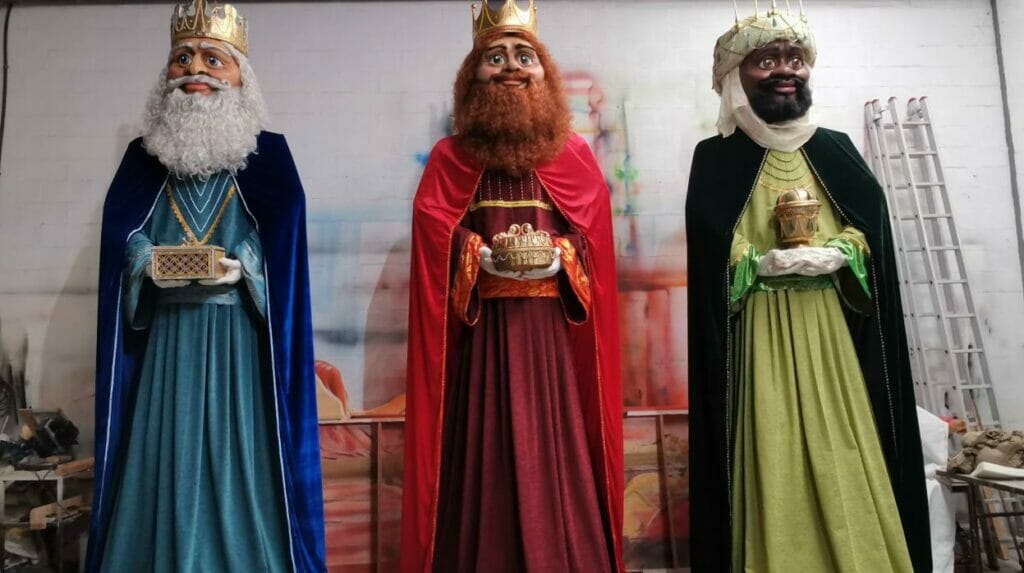 Royal postmen are placed in different parts of the city so that the youngest members of the family can send their letters to the Three Wise Men from the East, who on the night of 5th January will pass by all the houses to leave their requests and open the presents on 6th January.
In addition, for the last few years their majesties have been located in different parts of the historic centre of the capital of Malaga. Do you dare to find them?
Christmas San Silvestre in Malaga
As a solidarity action on the 30th of December, the classic San Silvestre race organised by the Real Club Mediterráneo will take place. A popular 10km race through the city centre starting from the Paseo de la Farola. You can register here.
Christmas at the Cervantes and Echegaray Theatre in Malaga
During the Christmas season there are different plays for all audiences, both in the Teatro Cervantes and in the Teatro Echegaray, you can see all the programme here.
Activities for children at Christmas in Malaga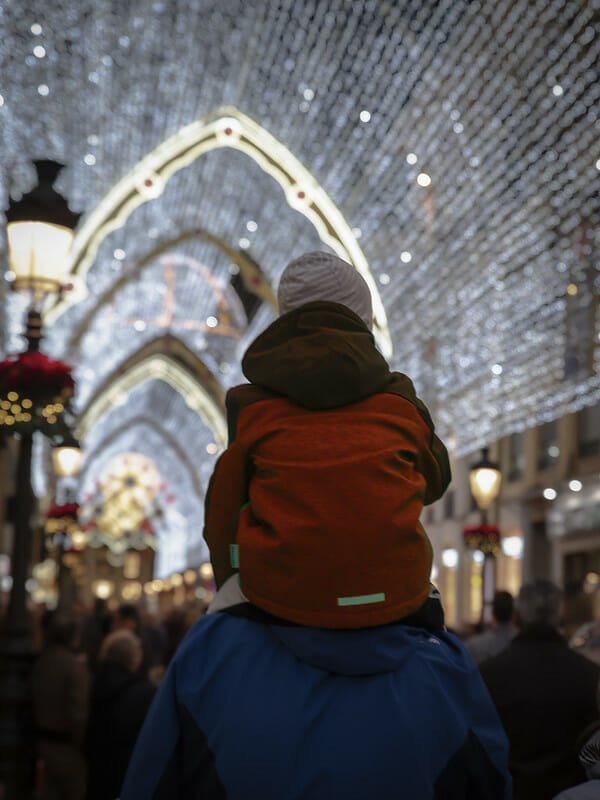 In addition to the aforementioned activities offered in the city centre of Malaga, the little ones have different spaces to enjoy such as:
Skating rink at Christmas in Malaga
You can enjoy this activity both in the skating rink of the Corte Inglés in Malaga and in the Palacio de Ferias y Congresos, in the most emblematic event of Christmas in Malaga and a meeting point for children between 4 and 12 years old where there will be no shortage of fun: MIMA
Excursions from Malaga
If you are more of a traveller, don't miss the opportunity to discover new places with different activities and excursions from Malaga:

There are many activities to enjoy Malaga at Christmas and visit the city at a warm temperature without losing the charm of this special time of the year.
You may also be interested in: What to see in Malaga: 10 must-see places to visit.