Conil de la Frontera, un pintoresco pueblo costero situado en la provincia de Cádiz, es un destino que combina historia, naturaleza y playas de ensueño. Conil de la Frontera es uno de los destinos favoritos tanto de turismo nacional como internacional.
Desde Visitanddo.com te dejamos un listado sobre qué visitar y qué hacer en Conil de la Frontera para que puedas disfrutar al máximo de tu visita a este paraíso en la costa gaditana.
1. Playas espectaculares para visitar de Conil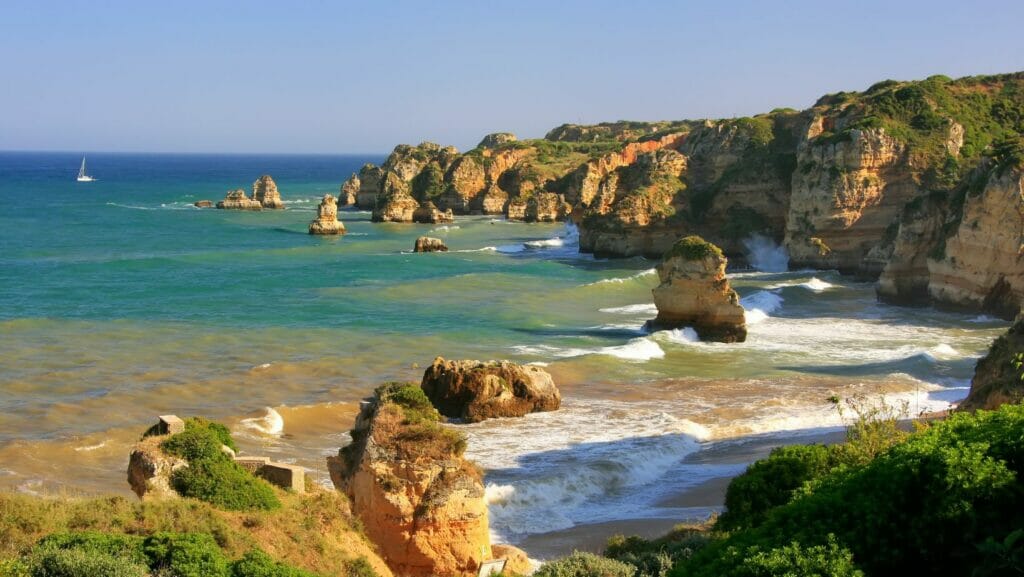 Conil es conocido por sus impresionantes playas de arena dorada y aguas cristalinas bañadas por el océano atlántico. Te dejamos algunas de las playas más populares que visitar de Conil de la Frontera:
La Fontanilla Beach
Ubicada junto al paseo marítimo, es perfecta para familias debido a su fácil acceso y a las comodidades cercanas. Sus aguas poco profundas y tranquilas son ideales para los más pequeños, mientras que los amantes del sol pueden relajarse en la arena fina y disfrutar de una amplia variedad de chiringuitos y restaurantes en el paseo.
La Playa de los Bateles
Una de las más extensas de Conil, es famosa por sus magníficas puestas de sol. Es un lugar ideal para practicar deportes acuáticos como el surf y el paddle surf. Además, hay varios bares y chiringuitos en la playa donde podrás saborear deliciosas tapas y mariscos frescos mientras contemplas las olas.
La Playa del Roqueo
Esta playa es una excelente opciónpara aquellos que buscan una playa más tranquila y alejada del bullicio. Rodeada de acantilados y rocas, esta playa ofrece un entorno natural impresionante. Es un lugar perfecto para los amantes de la fotografía y para disfrutar de un día de tranquilidad junto al mar.
Las Calas de Roche
Consideradas como un paraíso escondido en la costa gaditana. Con su impresionante belleza natural, acantilados rocosos y aguas turquesas, ofrecen un entorno perfecto para relajarse y disfrutar de la tranquilidad. Un destino ideal para los amantes de la naturaleza y la privacidad.
2. Descubre la esencia del casco antiguo de Conil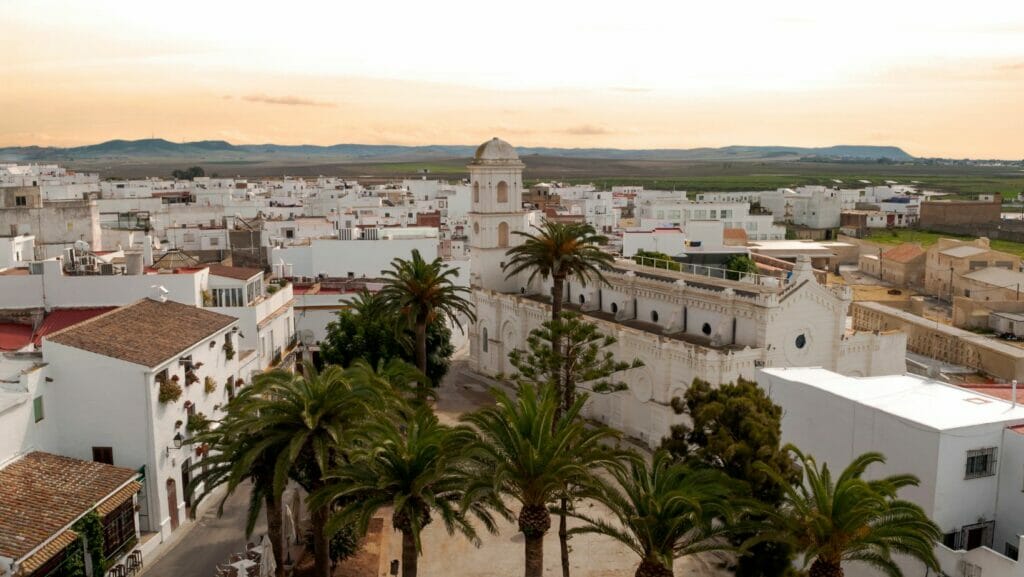 El casco antiguo de Conil es una verdadera joya con sus callejuelas estrechas y empedradas, casas encaladas y plazas llenas de vida.
Aquí tienes cinco sitios imprescindibles que ver en el casco histórico de Conil:
1. Iglesia de Santa Catalina
Esta hermosa iglesia de estilo barroco se encuentra en la Plaza de Santa Catalina, el corazón del casco histórico. Construida en el siglo XVIII, su fachada blanca y torre campanario son elementos distintivos. El interior alberga obras de arte religioso y detalles arquitectónicos interesantes.
2. Calle Cádiz
Una de las calles más emblemáticas del casco antiguo, la calle Cádiz, está llena de vida y color. Encontrarás tiendas de artesanía, bares de tapas y restaurantes tradicionales donde puedes probar la gastronomía local. Sin duda es la mejor opción donde comer en Conil.
3. Torre de Guzmán
También conocida como Torre de Castilnovo, es una impresionante fortificación situada en Conil de la Frontera. Construida en el siglo XVI, su función era proteger la costa de posibles ataques piratas. Hoy en día, es un mirador único que ofrece vistas panorámicas espectaculares del mar y los alrededores. Un lugar emblemático que refleja la historia y el encanto de Conil.
4. Puerta de la Villa
Esta histórica puerta de acceso a la antigua villa es un vestigio de las murallas que rodeaban Conil en el pasado. Pasear por esta zona te permitirá retroceder en el tiempo y imaginar cómo era la vida en el pueblo en épocas antiguas.
5. Plaza de España
Otra plaza importante en el casco histórico es la Plaza de España, donde se encuentra el Ayuntamiento y varios edificios históricos. Es un lugar animado y con encanto, rodeado de bares y restaurantes, perfecto para disfrutar de un café o una copa al aire libre.
3. No te pierdas el encanto del Faro de Roche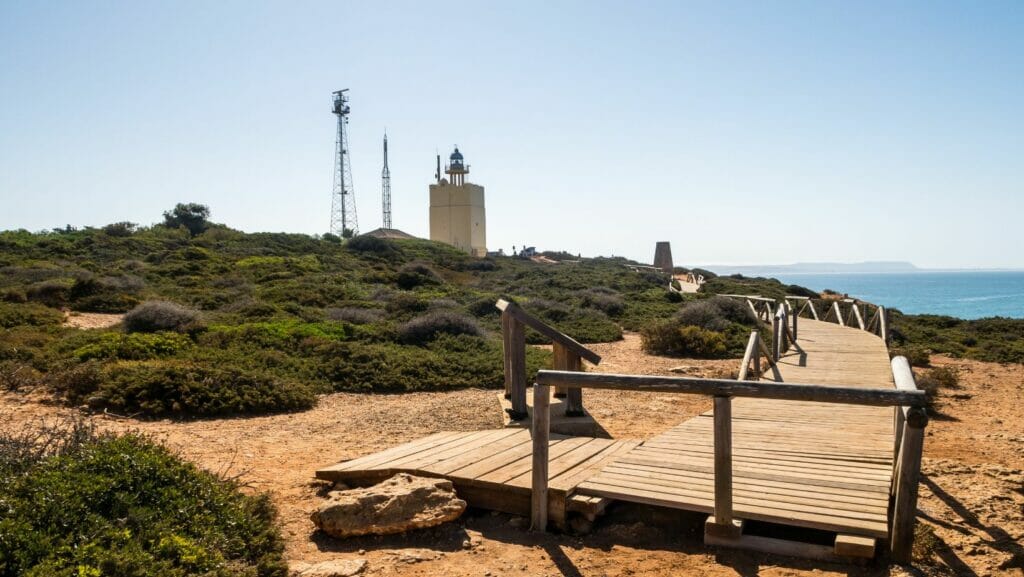 El Faro de Roche, situado en los acantilados cerca de Conil, es un lugar que no te puedes perder. Desde lo alto del faro, podrás disfrutar de impresionantes vistas panorámicas del océano y los alrededores. Es un sitio especialmente recomendado para visitar al atardecer, cuando el sol se sumerge en el horizonte y tiñe el cielo de tonos cálidos y dorados.
4. Mercado de abastos: una experiencia gastronómica auténtica
Visita el mercado de abastos de Conil para ver lo más local del lugar. Aquí podrás encontrar productos frescos de la zona, como pescados y mariscos recién capturados, frutas y verduras de temporada, aceite de oliva y mucho más. Es el lugar ideal para comprar ingredientes y preparar tu propia comida, o simplemente deleitarte con las delicias locales.
5. Deportes acuáticos y naturaleza en estado puro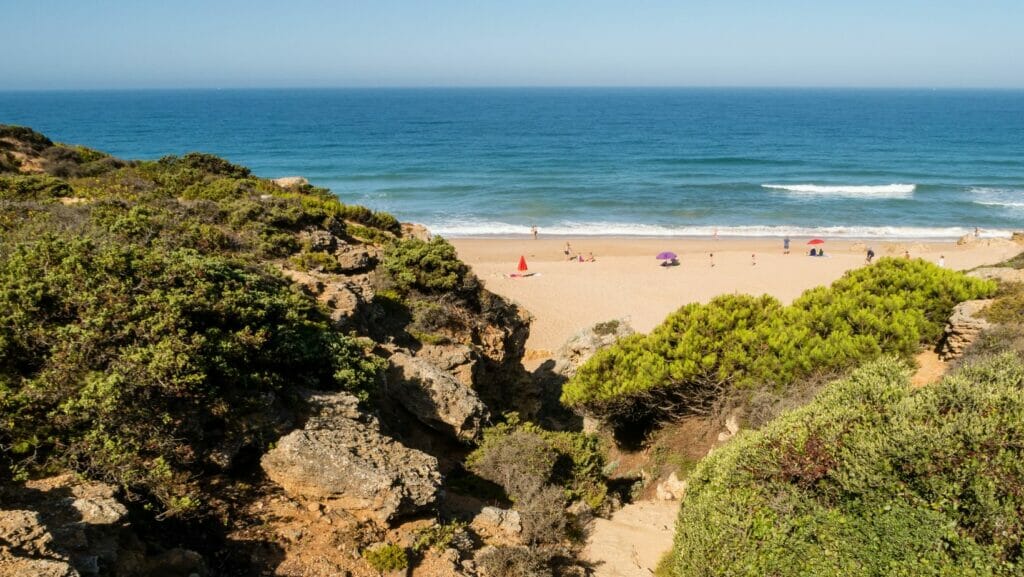 Conil es un paraíso para los amantes de los WATER SPORTS. Las condiciones de viento y oleaje hacen que sea un destino ideal para practicar surf, windsurf y paddle surf. Si eres principiante o deseas mejorar tus habilidades, puedes hay varias escuelas de surf en la zona que ofrecen clases para todos los niveles.
Si prefieres la naturaleza en estado puro, no te pierdas la oportunidad de visitar el Parque Natural de la Breña y Marismas del Barbate, que se encuentra cerca de Conil. Aquí encontrarás impresionantes acantilados, bosques de pinos y marismas donde habitan una gran variedad de aves y otras especies animales. Hay senderos bien señalizados que te permitirán explorar la belleza natural de la zona.
También puedes aprovechar e irte a la provincia de Málaga para realizar una de las excursiones favoritas de los últimos tiempos: Caminito del Rey. A continuación te dejamos todas las opciones con transporte + visita guiada + entradas al Caminito del Rey:
6. Excursiones que hacer en Conil de la Frontera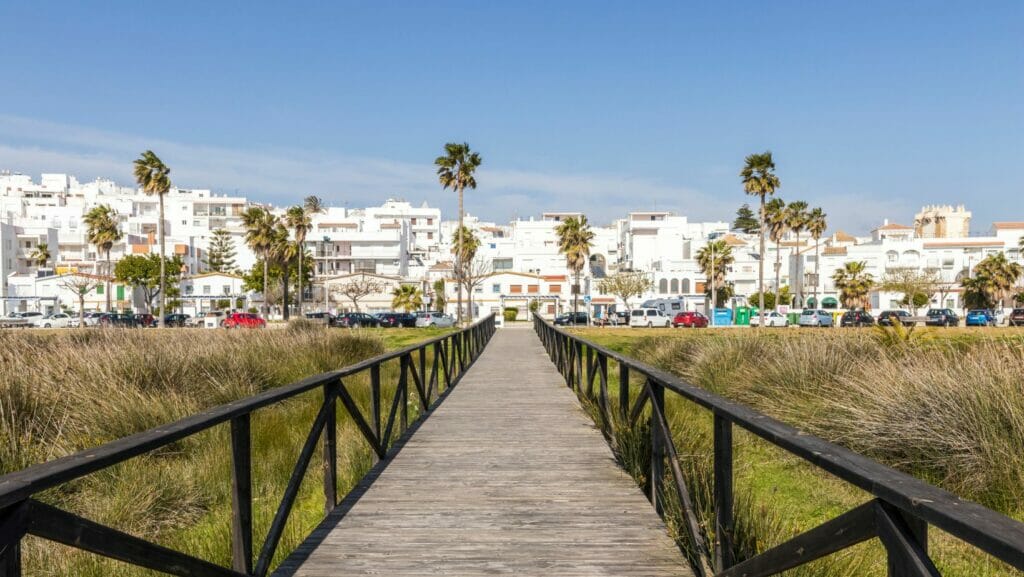 Desde Conil de la Frontera, tienes la oportunidad de realizar diferentes excursiones como Gibraltar, Marruecos e incluso una ruta por los pueblos blancos.
Gibraltar, a unos 50 minutos aproximadamente, ofrece una mezcla de culturas y su famoso Peñón con los monos salvajes.
On the other hand, Morocco, a solo una hora en ferry desde Algeciras, te transportará a una experiencia completamente diferente con sus mercados bulliciosos, arquitectura única y rica cultura.
O bien desde Conil, puedes disfrutar de dos destinos cercanos y fascinantes. Cadiz, la ciudad más antigua de Europa occidental, y Jerez de la Frontera, famoso por sus vinos y la equitación.
The ruta de los pueblos blancos desde Conil de la Frontera te llevará a través de pintorescos paisajes de Andalucía, . Descubre la encantadora Ronda, famosa por su impresionante "Puente Nuevo" y vistas deslumbrantes. Luego, explora Setenil de las Bodegas, conocido por sus casas construidas en las rocas. Una experiencia inolvidable entre la historia y la naturaleza.
A continuación te damos más información de estos destinos que puedes visitar desde Conil de la Frontera:
3 sitios donde comer en Conil de la Frontera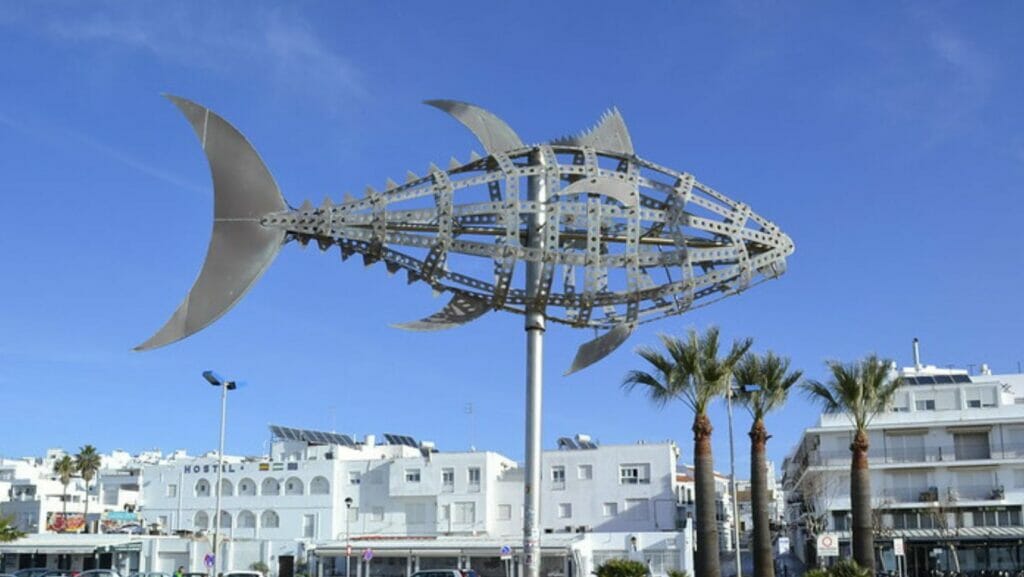 La gastronomía andaluza es famosa en todo el mundo, y Conil no es una excepción. Asegúrate de probar los deliciosos pescados y mariscos frescos de la región, como el atún rojo de almadraba, una auténtica exquisitez. Los restaurantes locales ofrecen una amplia variedad de platos tradicionales, como la fritura de pescado, el salmorejo, el pescaíto frito y muchas otras delicias que deleitarán tu paladar.
Aquí te dejamos tres sitios recomendados donde comer en Conil de la Frontera:
Restaurante «El Roqueo»
Ubicado junto al mar, en la Playa del Roqueo, este restaurante te ofrece una experiencia única con impresionantes vistas al océano. Su especialidad son los mariscos y pescados frescos, preparados de manera sencilla y deliciosa para resaltar su sabor. Además, su terraza al aire libre es perfecta para disfrutar de una cena romántica o una comida relajada con vistas panorámicas.
Restaurante «La Fontanilla»
Situado en la Playa de la Fontanilla, este restaurante ofrece una combinación de cocina tradicional andaluza con un toque contemporáneo. Sus platos están elaborados con ingredientes locales y frescos, y su menú incluye opciones para todos los gustos, desde pescados y mariscos hasta carnes y opciones vegetarianas. Su ubicación en primera línea de playa le agrega un encanto adicional a la experiencia gastronómica.
Taberna «Casa Francisco»
Si buscas una auténtica taberna andaluza, Casa Francisco es una excelente opción. Este lugar es famoso por su ambiente animado y sus deliciosas tapas. Aquí podrás probar una variedad de platos típicos, como el pescaíto frito, las gambas al ajillo, el salmorejo y muchas otras especialidades de la región. Es el sitio perfecto para disfrutar de la cultura de tapeo en Conil.
Conil de la Frontera es un destino que combina a la perfección las playas más hermosas con un casco antiguo lleno de encanto, una rica cultura gastronómica y actividades para todos los gustos. Ya sea que busques relajarte bajo el sol, explorar la historia y la naturaleza o sumergirte en la cultura local, este pintoresco pueblo costero te cautivará con su belleza y autenticidad. Así que no lo dudes más y prepárate para disfrutar de unas vacaciones inolvidables en Conil de la Frontera.