We leave you a list about the best things to see and do in Jerez de la Frontera that will help you prepare your visit to one of the most artistic cities in Andalusia, perfectly suited to your needs. Combinable to see in one day with the capital of Cádiz, which is half an hour's drive away.
Jerez de la Frontera was founded by the Phoenicians over 3000 years ago, occupied by Romans and Arabs, it is famous for being the birthplace of flamenco, having one of the best wines in the world and for holding the motorbike Grand Prix, as well as its fame for horse riding and the Jerez horse fair.
Add it to your bucket list!
What to see in Jerez de la Frontera in one day
The small, picturesque Cádiz town of Jerez de la Frontera is a popular getaway for locals and nearby towns between the province of Seville and the province of Cádiz.
We want your visit to Jerez de la Frontera to be unforgettable and that's why we start with the best things to visit and do in Jerez de la Frontera:
10 must-see places in the historic centre of Jerez
Get ready to explore and enjoy a full day of fascinating discoveries. Here's a mini itinerary of 10 must-sees in Jerez de la Frontera in one day:
1 - Jerez de la Frontera Cathedral
Start your day in the historic heart of the city visiting the majestic Cathedral of Jerez. This magnificent building combines Gothic, Renaissance and Baroque architectural styles. Admire its impressive façade and explore its interior, where you will find religious works of art and a serene atmosphere.
2 - Alcazar of Jerez de la Frontera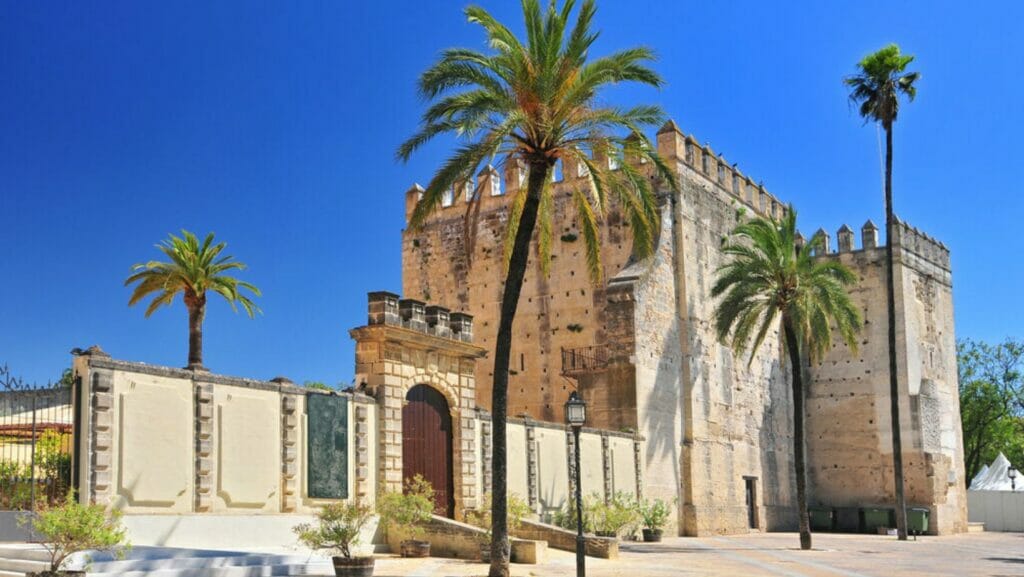 Just a few steps from the Cathedral, you will find the Alcázar of JerezThe palace is an ancient fortified palace of Almohad origin. Explore its lush gardens, courtyards and towers, and let yourself be carried away by the beauty and history that emanates from this place.
3 - Charterhouse of Santa María de la Defensión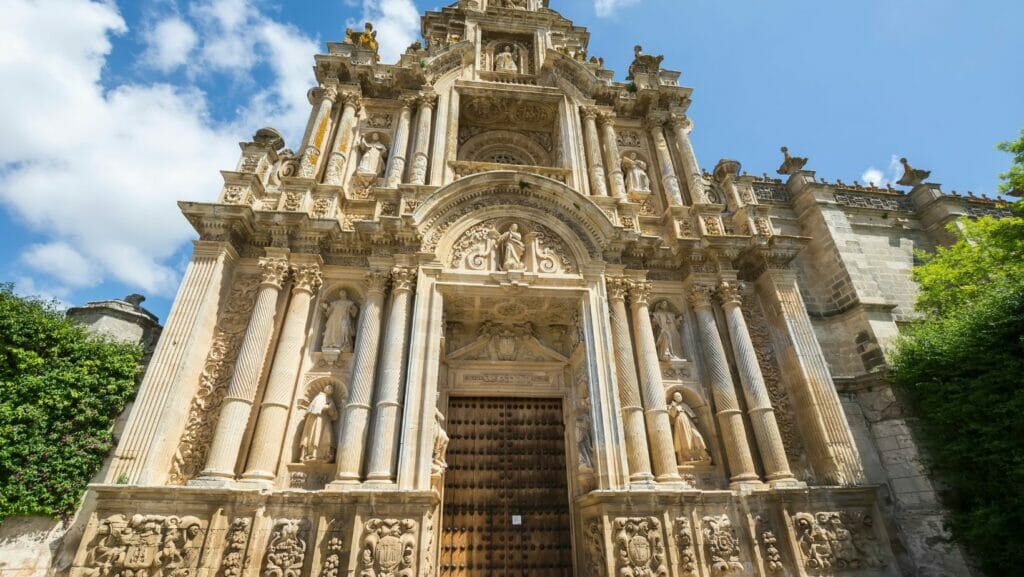 Continue your journey to the Carthusian monastery of Santa María de la DefensiónA Carthusian monastery with an impressive church and cloister. Admire the religious architecture and enjoy the tranquillity and serenity of this place.
4 - Arenal Square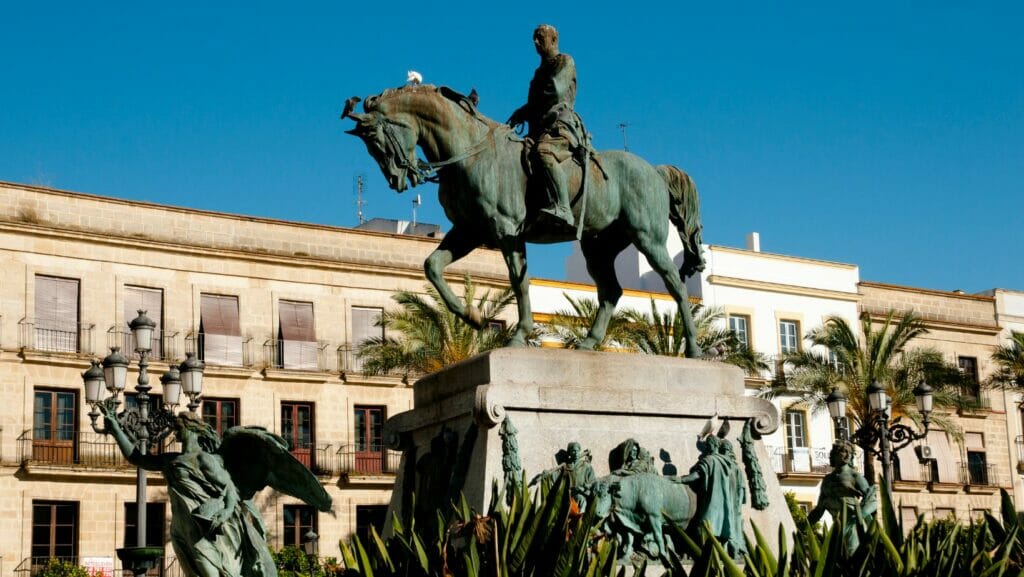 Head towards the lively Plaza del Arenal, one of the most emblematic places in Jerez. Here you can enjoy the lively atmosphere, surrounded by cafés, shops and restaurants. Watch the equestrian statue of Alfonso X "The Wise". and sit on a terrace to enjoy a tapa and a glass of sherry.
5 - St Michael's Church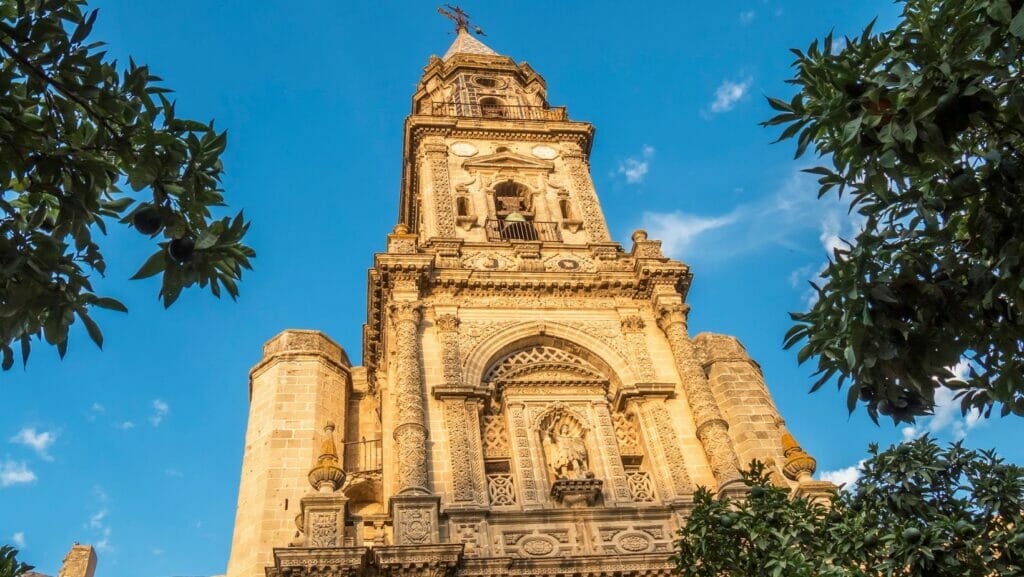 Just a few steps from the Plaza del Arenal is the Church of San Miguel, a gothic-renaissance church with an impressive bell tower. Admire its beautiful façade and go inside to explore its interior, where you will find altarpieces and works of religious art.
6 - Long Street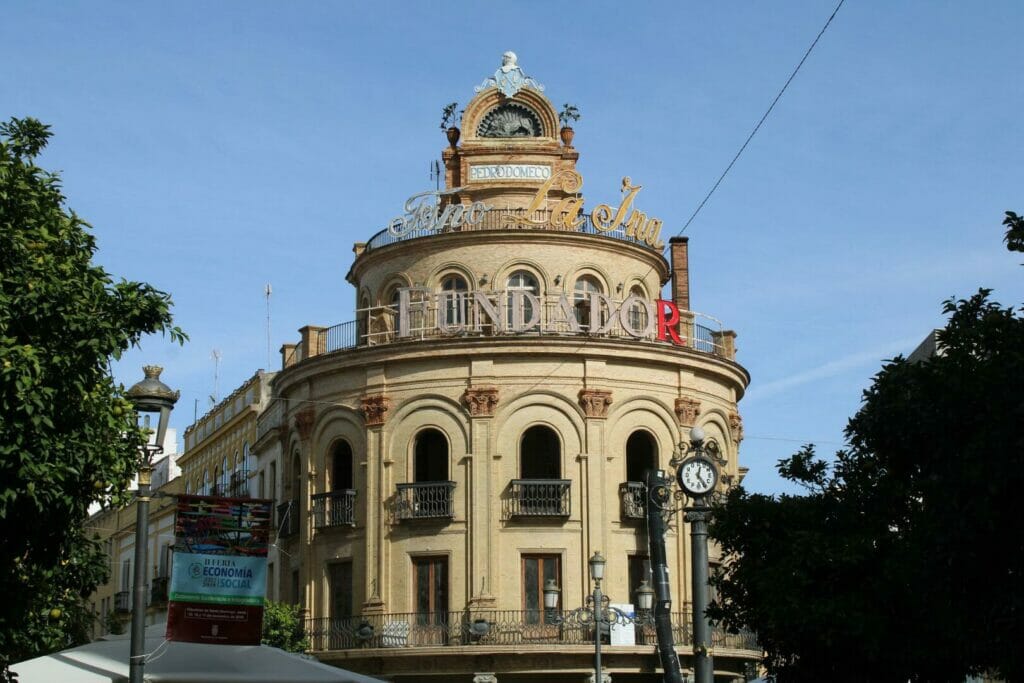 Walk along the lively Calle Larga, one of the main commercial arteries of Jerez.. Here you will find shops, boutiques, bars and restaurants. Enjoy the lively atmosphere and discover the daily life of the city as you stroll along this historic street.
7 - El Barrio de Santiago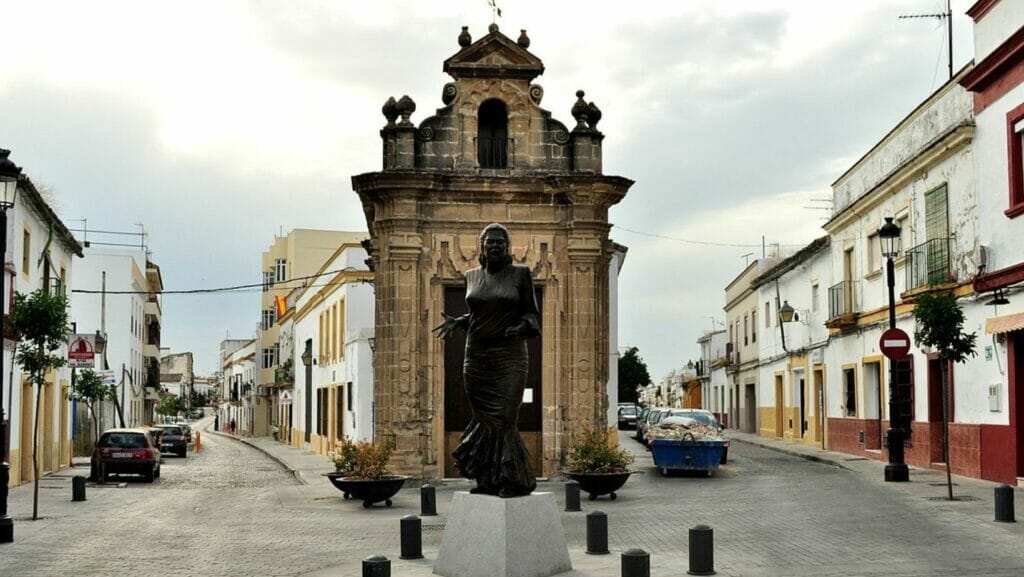 Delve into the charming Barrio de Santiago, one of Jerez's oldest neighbourhoods. Its narrow cobbled streets, whitewashed houses and flower-potted courtyards will take you back in time. Explore its picturesque corners and discover the authenticity of traditional life in Jerez.
8 - Basilica of La Merced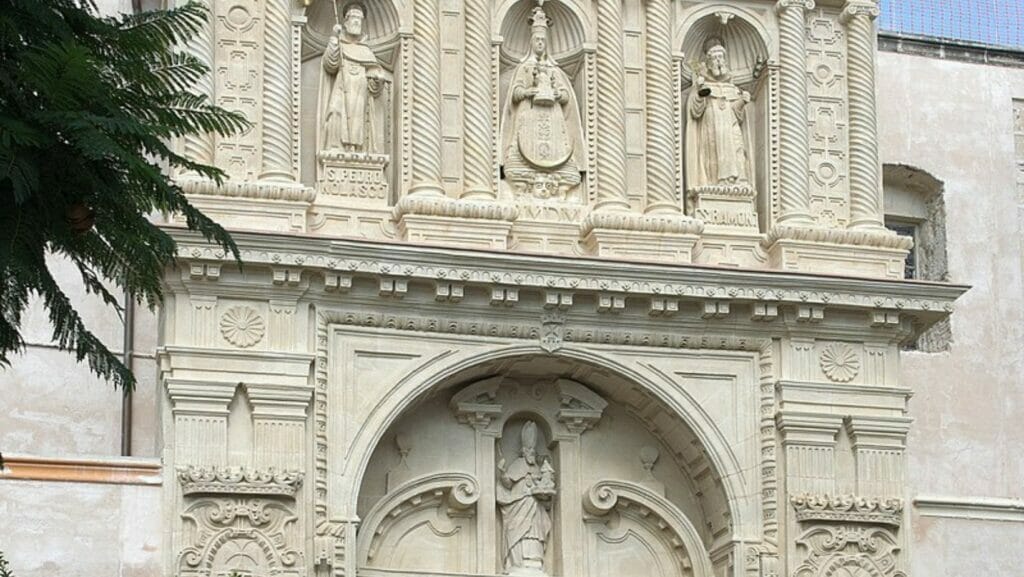 Visit the Basilica de la Merced, an impressive religious building in the Baroque style. Admire its ornate façade and explore its interior.r, where you will find altarpieces and works of religious art of great value.
9 - Central Market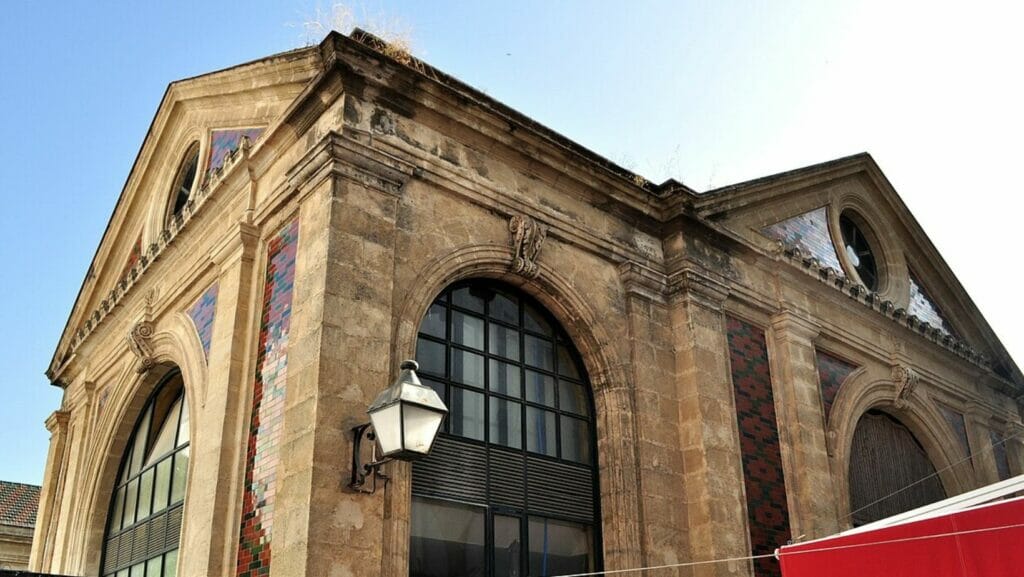 Immerse yourself in local life and visit the Mercado Central de Abastos (Central Food Market).. Here you will find a wide variety of stalls offering fresh produce, from fish and seafood to fruit, vegetables and local products. Enjoy the flavours and aromas of Jerez's gastronomy.
10 - The Tío Pepe Winery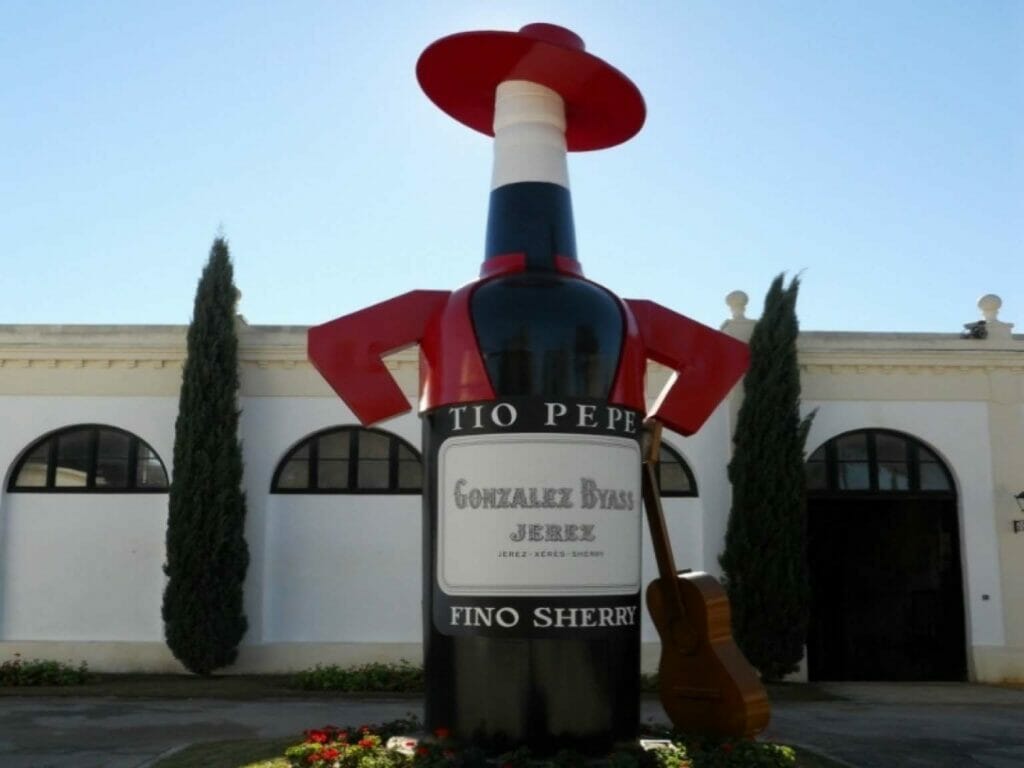 Conclude your day in Jerez with a visit to the famous Bodegas del Tío Pepe. Learn about the exciting world of sherry wine and learn about its production and ageing. Enjoy a wine tasting and learn more about the city's history and winemaking tradition.
We leave you a interactive map with our must-haves what to visit and what to do in Jerez de la Frontera:
Wine tourism and Jerez wineries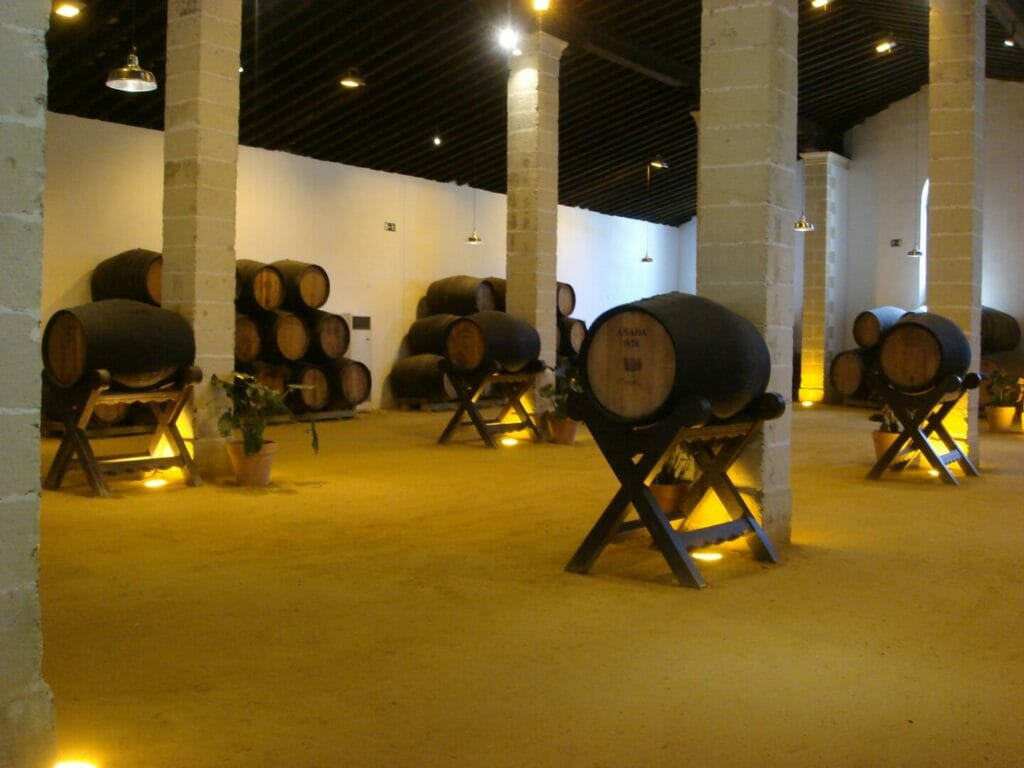 Jerez is popular for its wines and also for its gastronomy. Its origins date back to the time of the Catholic Monarchs when Jerez boomed thanks to the trade of its wines through the English.
The most popular thing to do is to go route of tabancosThe typical Jerez taverns, which have their origins in the traditional Jerez wine shops, are worth a visit. You will usually be served wine in bulk accompanied by a tapa, and these places serve as a meeting place where flamenco is sung. A unique experience to enjoy the wines of Jerez in its historic quarter.
What would it be like to go to Jerez without visiting its wineries? If you are one of those who like wine tourism, and if you don't like it too, enjoy a wine tasting in one of its famous wineries is a compulsory activity.
The most famous bodegas in Jerez are:
William & Humbert Winery
Tío Pepe-González Byass Wineries
Bodegas el Maestro Sierra
Bodegas Emilio Lustau
Sandeman Winery
Its wines have designation of origin "Jerez-Xérez-Sherry" and "Manzanilla-Sanlúcar de Barrameda".
Visit a winery in Jerez de la Frontera with wine tasting included:
Andalusian Horses in Jerez: The Horse Fair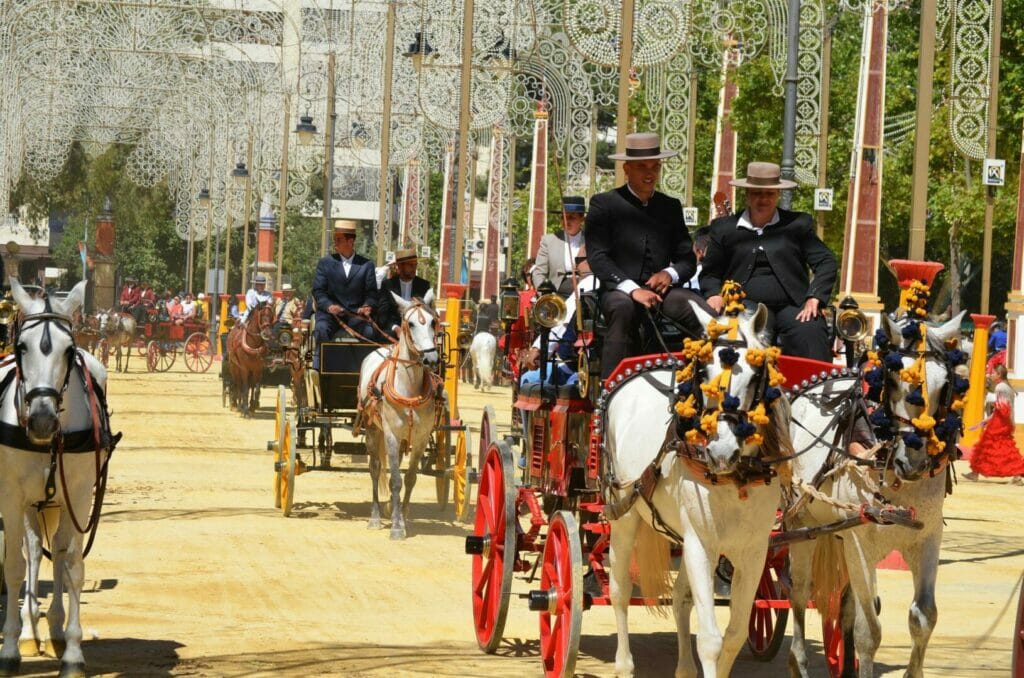 In addition to wine, it is also famous for the Spanish horses of Jerez, a spectacle to behold. the Royal Andalusian School with its famous unique show in the world where you will see horses dancing.
Jerez de la Frontera is famous for its Horse FairThe festival, a popular festival that is celebrated in style and that has been declared of International Tourist Interest. It is normally held in the González Hontoria Park during the month of May. During this week Jerez dresses up in its best clothes around flamenco, wine and its main protagonist, the horses.
The Spanish Motorcycle Grand Prix at the Jerez circuit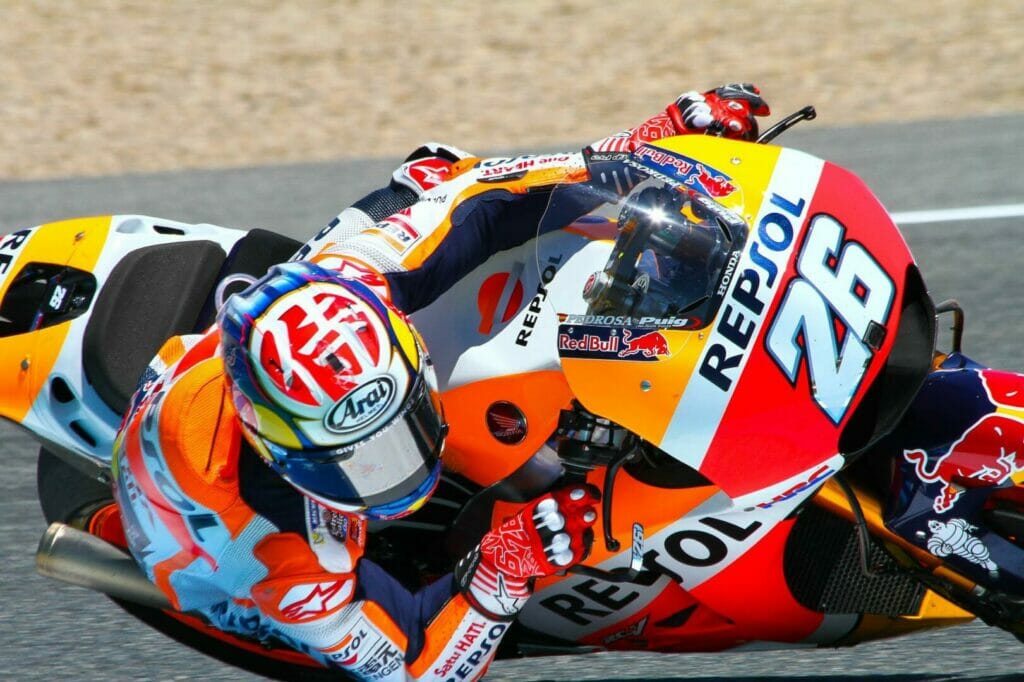 Jerez has been linked to motor sport, more specifically to motorcycling. The Circuito de Jerez, inaugurated in 1985, is one of the most attractive national circuit events in the world of motor racing. It is one of the most famous racetracks in Europe with facilities for high-level tests aimed at the Formula 1, Motorcycling and Sport-prototype world championships.
Great figures of motorcycling have competed in the streets of Jerez, such as Fausto Gresiniwho was declared the first champion at Jerez in 1987. Álex Crivillé, Martin Wimmer, Benjamín Grau, Victor Palomo, Borje Jansson, Barry Sheene, Fabio Quartararo, Maverick Viñales, Valentino RossiMarco Lucchinelli, Angel NietoDani Pedrosa and Marc Márquez are some of the famous drivers who have raced on this circuit.
If you are a motor enthusiast you can take a guided tour of the Jerez Circuit.
If you want to visit the most traditional places in the province of CadizYou should not miss Jerez de la Frontera, land of flamenco, horses and wines.
If you want to visit the most traditional places in the province of CadizYou should not miss Jerez de la Frontera, land of flamenco, horses and wines. You can also see what to do and what to visit in Cádiz.
We recommend that you take advantage of the Excursion to Cádiz and Jerez de la Frontera from the Costa de la Luz so that you don't miss any detail of what to visit and what to do in Jerez de la Frontera.